Ananda Yana
To us, running is a journey. A journey that takes one towards being a better human being, and one that is filled with the joy of self realisation.
Ananda Yana is a unique event that brings people together, with an emphasis on cooperation and the spirit of community.
Where
Ananda Yana 2023 will be organized at Snehadaan campus, Sarjapur Main Road, Bengaluru - 560035
Why Ananda Yana
To us, running is a journey. A journey that takes one towards being a better human being, and one that is filled with the joy of self realization.
The aim of this event is to bring people together, with an emphasis on cooperation and the spirit of community.
To help raise funds to support children from disadvantaged background
To create an event that is affordable to all based purely on cooperation and a spirit of giving
To encourage more people to take up running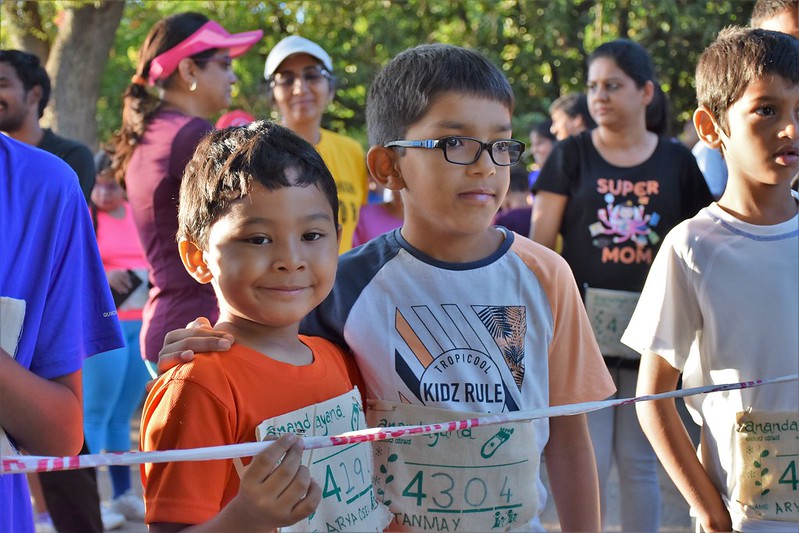 The event brings people from different backgrounds to contribute towards the cause of giving back to society. It raises funds towards nutrition needs and running shoes of the children from disadvantaged backgrounds training with us.
We focus our energies, volunteer strength and resources towards helping the families and children in need through Ananda Yana. We continue to meet the objectives of coming together with a spirit of cooperation and giving, while reaching out to the disadvantaged.
Ananda Yana raises funds for Sai Vishwanath Memorial Trust, through which the initiatives of Runners High works get supported. The funds raised through Ananda Yana 2023 will help our social initiatives and NGOs needing support in terms of even basic needs.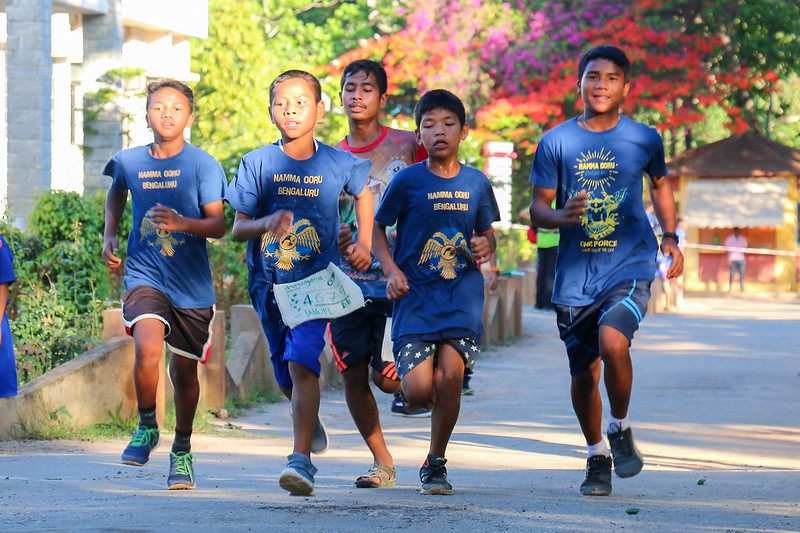 Awareness about the event is primarily created via word of mouth. The event is managed completely by volunteers – managing aid stations, parking, route logistics, cheering stations and photography. Being conscious of the fragile environment we live in, we encourage carpooling among participants, and make no use of plastic. We do not accept sponsorships of any kind for the event. However, donations in the name of the schools we support are accepted and acknowledged.
Why Running
The aim of this event is to bring people together, with an emphasis on cooperation and the spirit of community.

With each initiative related to running that we undertake in the schools, we have seen a great change in the lives of the children – beyond just health and fitness. Our goal is to make running a normal part of the lives of the children, whatever the challenges they face or backgrounds they come from.
We published multiple articles in 'Teacher Plus', a well known magazine started by educationists. The articles give an overview of our work in sports and physical svtivities for children from varied backgrounds.
Here are more articles covering our work:
The example below will give you an idea about one of the numerous possibilities. This is one of the various efforts we are involved in:
Running and Children at Shristi Special Academy
In 2013, we started a training program for children and staff at Shristi Special Academy, Bangalore. The participants included children with autism, down's syndrome and mental retardation; physiotherapists and special educators; and parents, trained along with other runners under the guidance of Runners High.
The group started with very small distances, focusing on getting used to the rigor of a new physical activity and on building a routine. The training started with about 4 days of running in a week. Slowly, the team started bonding with each other and with the other runners. It was inspirational to see the children break out of their barriers and bloom with their running. They enjoyed the time out in the open and were very self-motivated in showing up for the workouts.
The special educators and therapists started seeing increased attention levels in the classroom and marked changes in the children's abilities. Each child was monitored and interviewed to understand the changes running was bringing in his or her life. We could see significant changes in their confidence levels, social interaction and self-expression. Children, as well as the staff from the school completed the training program successfully. We are seeing increased participation from both the children and the staff in subsequent programs.
The following press coverage will give more information on how running has helped children in the organizations we work with :
To help raise funds to support children from disadvantaged background
To create an event that is affordable to all based purely on cooperation and a spirit of giving
To encourage more people to take up running
Event Partners
Runners High
Runners High is a community constituted by members who are involved in efforts towards education, members who train to run and various patrons and supporters towards the above causes. We constantly look at creating a variety of new avenues for our members to learn from and contribute to the community.
Our mission at Runner's High: "To strive to assist members of the community in their eternal quest to reach their true potential – physically, mentally and spiritually, in a holistic, sustainable and enjoyable manner".
Pacemakers
The PaceMakers is a running group which was founded in Feb 2012. The group members are spirited long distance (from 10K to Marathon) runners of all abilities – ranging from novice to experienced, who coach under the leadership and guidance of Coach Pani – an ex-IAF athlete with many meritorious achievements to his credit in competitive races across various distances.
The objective of PaceMakers is to improve performance and avoid sports injury through the application of various Principles of Training like The Overload Principle, Specificity, Periodization, Reversibility etc. Planned Performance Training (PPT) seeks to achieve high improvement in performance and is structured so that Peak Performance occurs at predetermined moments within the competitive season. A Structured Training Plan is developed for each athlete, based on their current performance, fitness and individual aspirations. The program is balanced between Volume & Intensity and is gradually increased to peak at the right time before an event.
We run three days a week with two days of cross training on their own. Tuesday and Thursday and Saturdays we train at kanteerva stadium.
BHUKMP
BHUKMP, Hindi for Earthquake. This expands to Bangalore, Hyderabad, Ultra, Kaveri Trail, Mumbai and Puducherry. We are a group of friends who love to run and have runversations. Join us on the "Dandi" Run to have a runversation with us! We can be spotted doing our Dandi runs on Saturdays from Koramangala – Cubbon – Yeshnanthpur – Sankey Tank- Cubbon.
Jayanagar Jaguars
JJs (Jayanagar Jaguars) is one of the oldest running groups in Bengaluru. JJs mission is to deliver affordable comprehensive structured training program to all – be it experienced runners who constantly strive to improve their personal best or to beginners who seek to achieve fitness by means of running.
While building fitness, strength and stamina is an integral part of JJs comprehensive program – JJs also work with industry leading partners in nutrition, sports doctors and physios to include these essential aspects of fitness into the program. Women@JJs drive the safety initiatives to make running on the streets a safe and enjoyable experience for all.
Over the years, 3000+ runners have benefited from this program carefully crafted and constantly evolved by Coach Pramod Deshpande. The customized workouts for individuals ability and goals are executed uniformly across various locations in Bengaluru – Jayanagar, Vijayanagar, HSR Layout, Kanakapura Road, Indiranangar, Whitefield, Hebbal… and growing.
Trail Blazers
TrailBlazers Bangalore promotes getting fit in a healthy and natural way and they welcome all in the mission of "Getting FIT - The HEALTHY Way".
TrailBlazers helps take control of our lives without going through all those fancy and expensive weight loss programs with an aim to pull people off the couches and help them overcome the fear of getting started on a fitness regime.
Soles of Bangalore
Soles of Bangalore is one of the newer running groups in the Garden City. While individual runners chase their own goals, the group strives hard to remain inclusive and has quickly grown to an unit which is close to 60 runners of which close to 15 are lady runners. The group is focused on promoting running as an activity for healthy living and to develop as runners through group runs, conditioning and experience sharing. The group has runners of varying pace and during group runs, runners of different pace form sub-groups and pace each other. The weekend group runs start from HSR Layout BDA Complex every Sunday, there are smaller groups running through the weekend in different routes.
Event Details
Ananda Yana - 2023
We welcome you all to come and experience the joy of running with us in a journey of a lifetime!
We will have the following distance categories for the event:
Please enter your email ID to download the certificate.
Sunday, June 4th, 2023 is the date of the event
Start time for Sneha Ota (10Km): 6:25 A.M
Start time for Ananya Ota (5Km): 6:35 A.M
We urge all participants to follow all safety precautions as mandated by the authorities regarding COVID-19. All details regarding safety precautions related to COVID-19 and other aspects of running will be emailed to all participants.
There will be bibs for participants and they are required to wear the same during the run. Details on BIB pick-ups are posted in FAQ. Every participant will receive a gift as memorabilia from the event and the same will be given to the participants in person on the event day.
Gallery
Here are some pictures from earlier events
Financial Report of Ananda Yana 2023
Income
Expenditure
Heads
Amount
Heads
Amount
Income from Registrations
₹ 1,70,000
Start/Finish Area Logistics
₹ 14,800
Group Registrations
₹ 3,08,800
BIBs printing
₹ 18,000
Donations
₹ 2,30,000
Freebie/Gift
₹ 65,000
Post Run Breakfast
₹ 1,51,200
Sound System
₹ 24,000
Total Income
₹ 7,08,800
Total Expenditure
₹ 2,73,000
Funds to be donated to support initiatives
₹ 4,35,800
Volunteer contributions that don't figure in the budget statement
Estimated savings
Chalk Powder & Whistles
300
Dunzo of Bibs
1,000
Sound system rental - support from music bands
4,000
Water cans and transportation
5,000
Markers and Dunzo
570
AID station material
3,800
First Aid Kit
950
Dunzo
206
Electral
5,189
Chalk Powder
580
Volunteer Refreshments
2,750
Lupin Electral
4,200
Total
₹ 29,000
Registration FAQs
Will there be on-the-spot registration?

What is the age group for participants?

Participants should be at least 6 years of age and anyone below 18 years of age must be accompanied by parents (or guardians above 18). The Registration form will be considered equivalent to parental consent for participation.

How will I know if my registration is successful?

You will receive a confirmation email informing you of your registration details to the email your have provided during registration.

What if I don't receive the confirmation email?

If you don't receive it within a week of registering online, please send a mail to support@runnershigh.in

When is the last date for registration?

Online registrations will be closed at 12:00 midnight on 27th May 2023 or when we reach 1200 registrations, whichever is earlier.

What about payment?

Payment details are available on the Registration Form. Payment can be made through Online Bank Transfer., Credit card, Debit card or UPI.

Registration for the event is NOT complete without payment.

When and where will the BIB pick up be?

BIB distribution will be done at the following locations.

Timings for BIB distribution are

May 28th, Sunday 4:00pm-7:00pm

June 3rd, Saturday 10:00am-1:00pm and 4:00pm to 7:00pm

Can Foreign Nationals register & participate in this event?

Yes, you can support us by running as per your convenience virtually. However, the payment gateway can only take Indian account details and hence you will need to make payment using an Indian Account or credit card. Also, we won't be able to send you the bib or freebies.
Event FAQs
Does Ananda Yana target a huge number of runners?

We want to grow organically and will take more runners only when we truly believe we can cater to everyone equally. In the first three years, we reached out to a 1000 participants. We then limited the numbers based on the route logistics and in the interest of providing a good sustainable experience to everyone.

This year the event is being held on June 4th, 2023. We are hoping to reach our usual number of 1200 participants. It is not a target that will determine the success or failure of the event. We believe that an event based on community and giving will grow organically.

Does Ananda Yana target a fundraising amount?

Yes. All organizations we support are registered non-profits. All these years the funds we raised went towards supporting shoes, nutrition, registration costs of events, transport and other logistics for running trips etc. We strive to make running a part of their curriculum and an integral part of a journey towards empowerment and independence.

This year we hope to raise Rs. 3,00,000 funds at least towards supporting various initiatives.

Can I donate towards the cause?

Yes. You can donate towards the cause by making a contribution at the time of registration. If you would like to make a significant contribution or want to avoid the payment gateway charges, please reach out to us at saivishwanathmemorialtrust@gmail.com. Every contribution will receive a 80G certified receipt.

How will you ensure transparency?

A budget document with estimated expenses and registration income for the event will be put up on the event website. After the event along with the 'thank you' email we will send across actuals of expenditure and income for the event to all runners and also put it up on the website. Every expense will be supported by a receipt. Every contribution/donation will also be supported by a receipt. By the next year, when we organize the next edition, we will give an update on the funds raised in the previous year. You can always contact us to see how the funds were used.

Will there be prizes?

Yes – for everyone. Every participant will get an opportunity to be a part of this community-driven event and help others in the process as well. We will recognize every participant with an online certificate that can be downloaded and printed.

What will be this year's route?

The route will be scenic through country roads that gives a memorable experience to all. The route details will be announced closer to the event.

What are the distance categories ?

We will have the following distance categories for the event:

What will be the registration fee?

Rs. 400/- for every participant. Please Note: Online registrations will have an additional transaction fee charged by third party vendor.

Will there be a T-shirt or freebie?

No. Every participant will receive a gift as memorabilia from the event and the same will be given to the participants in person on the day of the event.

Will there be BIBs and BIB pick-ups?

There will be bibs for participants and they are required to wear the same for the runs. Please see Registration FAQ section for BIB distribution.